A Flight Simulator is a device that artificially re-creates aircraft flight and the environment in which it flies, for pilot training, design, or other purposes. It includes replicating the equations that govern how aircraft fly, how they react to applications of flight controls, the effects of other aircraft systems, and how the aircraft reacts to external factors such as air density, turbulence, wind shear, cloud, precipitation, etc. Flight simulation is used for a variety of reasons, including flight training, the design and development of the aircraft itself, and the research into aircraft characteristics and control handling qualities.
Microsoft Flight Simulators
Edit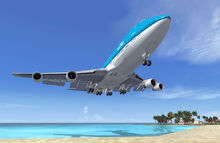 Microsoft developed 10 versions of Flight Simulators. Starting with Flight Simulator 1.0, which was released in November 1982. Since then, Microsoft developed 9 more simulators, including the popular titles of Flight Simulator for Windows 95 (released in 1996), Flight Simulator 2004: A Century of Flight (released in 2003), and Flight Simulator X (released in 2006).
On January 22, 2009, it was reported that the development team was heavily affected by Microsoft's ongoing job cuts, with indications that the entire Microsoft Flight Simulator team had been laid off. Microsoft confirmed the closure of the ACES studio on January 26, 2009, in a post on the official FSInsider Web site.
Prepar3D
Edit
Prepar3D is an altered version of Microsoft's Flight Simulator X and is always under constant development. Its latest release, Prepar3D v4.1[1] (released on October 10, 2017) operates on a 64-bit software and offers great features such as compatibility with virtual reality headsets, improved stability, and more.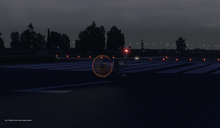 X-Plane is another flight simulator produced by Laminar Research. Its current release is X-Plane 11 (released on March 30, 2017).
References
Edit
↑

Prepar3D v4.1 release notes.
External Links
Edit
Community content is available under
CC-BY-SA
unless otherwise noted.